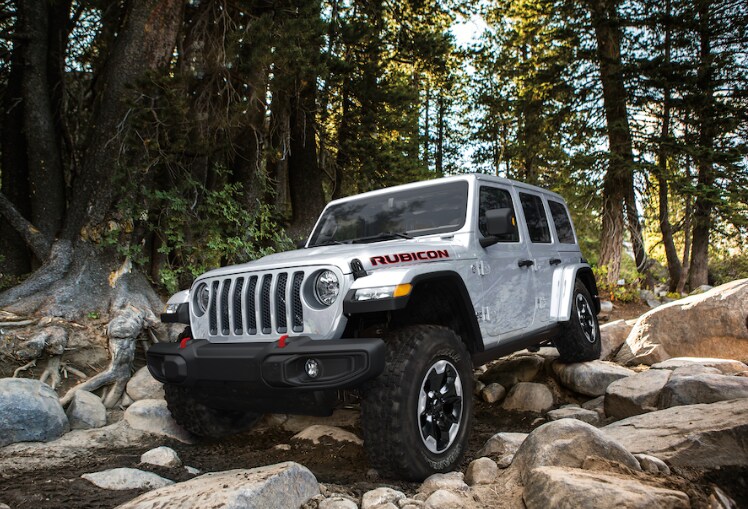 Create Your Trail with a New Jeep Wrangler
Emerson said, "Do not go where the path may lead, go instead where there is no path and leave a trail." If we didn't know better, we'd swear he was talking about our Jeep Wrangler. Are you of a mind to create your own trail? Looking to conquer places where no one ever has before? We have a few suggestions. But first, we recommend not leaving home in Terre Haute, IN without your Jeep.
Today's Jeep is so much more than rugged off-roading. It might surprise you to learn that the Jeep Wrangler that you see in our dealership today is in no way your parent's Jeep. Models like the Wrangler Sport, Sport S, Sahara, and Rubicon are much more advanced. Of course, all trim levels are still Jeep-built through-and-through-a solid sport utility choice in Clinton, IN. Wrangler has much more to offer you now than it ever has before.
Peak Performance
Wrangler is designed for top performance during your off-road adventures, no matter where the trail you're creating takes you. The latest Wranglers now have an available diesel engine--a 3.0-liter EcoDiesel six-cylinder engine, providing you with an opportunity to be more eco-sensitive for your next commute from Farmersburg to Brazil, IL. Likewise, you'll enjoy its towing capability during both off-road and on-road journeys, rated to tow up to 2,000 lbs. Add to that its 2.0-liter turbo engine that's also available with or without hybrid eTorque. Alternately, choose the 3.6-liter Pentastar six-cylinder engine, also outfitted with hybrid eTorque.
Technology Evolution
Even connect with your Wrangler via voice command with Amazon's Alexa. Imagine asking Alexa to send you destination instructions or other data, or to check your fuel level, or even start your Wrangler's ignition on a chilly or rainy morning. Yep, you can do it. It's what we meant when we said this isn't your parent's Wrangler. We've improved this SUV with technology to help with performance while keeping you safe on the road.
Safety and Security Rule
With the Wrangler, you'll enjoy an extensive cache of safety and security supports to help give you peace of mind, whether you adventure solo or take along family and friends.
Take the guesswork out of the smallest to the largest concerns. After-dark driving worries will evaporate with your automatic high beams. Plus, enjoy the safety that our innovative technology brings you with the Advanced Safety Group of features, controlled from your 8.4-inch Uconnect display. You'll also find a collection of front and rear-collision alerts, parking assistance, and other alerts. In addition, an ultra-strong steel chassis, something that hasn't changed much, provides you with an increase of protection in the event of a crash. The advanced airbag system adds another dimension of safety. For added security and peace of mind, your Wrangler also provides an alarm system and vehicle anti-theft system.
The Wrangler gives you responsive and innovative features and options to choose from among the many trims available. Find just the right mix of rugged comfort and exciting design elements combined with the safety and performance you count on Jeep to deliver. Test-drive a Wrangler at Burger Chrysler Jeep and we know you'll put the beaten path behind you in favor of creating your own.
Visit Burger Chrysler Jeep Today!
Whether you're in Paris, IL or Sullivan, IN, contact Burger Chrysler Jeep for a test drive today!